— NVR General Settings — User Login Settings —
NVR — General Settings
User Login Settings
When users connect to the NVR from Remote DETEXI Clients, they will be required to authenticate with user settings defined in the NVR. The DETEXI NVR has the ability to provide different lists of cameras to different users, only allowing users to see and interact with the cameras they have privileges for. In addition, permissions such as PTZ control, maximum connection time, task control, etc. are configurable on
a per-user basis
. To create a user with
specific rights
—
In the

NVR Control Center

switch to the

Users

.
Below the

Users List

click

Add

button to open blank

User Information

dialog;
— or —
Click

Dup

button to open a copy of selected user settings for editing.
Enter a single word, case-sensitive, alphanumeric

User Name

to use to login to the NVR.
Enter a single word, case-sensitive, alphanumeric

User Password

and re-type it to the

User Password Confirmation

to be sure it is typed as desired.
Enter the

Number of Active Users

to define the number of Client instances the user can be signed into

simultaneously

.
Enter

Max connection time

to define the number of minutes user can be continuously connected to the NVR before the connection will be terminated. User may login again if desired. A value of 9999 designates no time limit.
Check

Master User

checkbox to give the user permission to terminate other user sessions from the

Client — Get Users

.
Check

Can Search Archive

checkbox to give the user permission to view/search NVR archive.
Continue to

User Cameras to Interact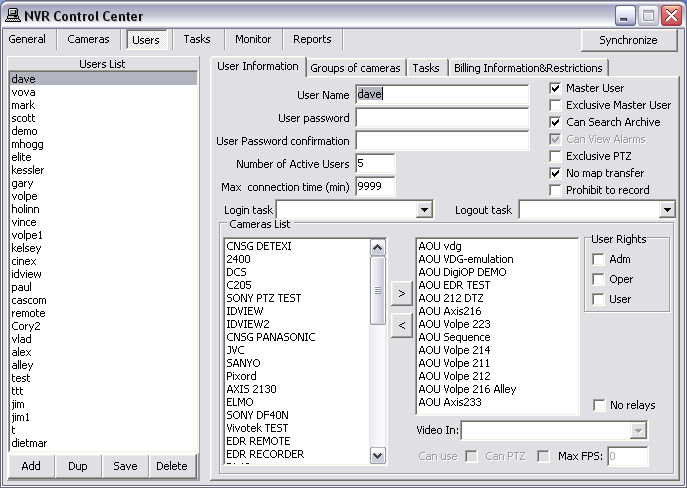 Usernames and passwords are

case sensitive

!
Unless otherwise configured for security reasons, it is recommended to have at least 2

Number of Active Users

allowed per user definition. In the event that a user's session is not logged out properly, this ensures that they can log in again without intervention from a

Master User

or

NVR Administrator

.
— NVR General Settings — User Cameras to Interact —
NVR — General Settings
User Cameras to Interact
The next step is to define which of the available cameras the user has access to. And also assign the level of authentication allowed from this user to the camera defined in the
NVR Control Center — Cameras — Security & Alarm
.
In most cases, the camera has only one username and password, with administrative privileges. Be sure that
User Rights (Adm/Oper/User)
settings make sense considering the authentication settings in the
Security & Alarm
.
Select a camera from the

Cameras List

at the left and click

">"

button to add the camera permission to the user — the camera name appears in the selected cameras list at the right.
Select the camera name in the selected cameras list at the right.
Check proper checkbox under the

User Rights

to pass the previously configured camera authentication settings —

Adm

,

Oper

or

User

.
Check

Can PTZ

checkbox below the selected cameras list to give the user PTZ permission on the selected camera. This setting is enabled by default if the camera has PTZ capabilities when assigned to the user.
Repeat steps 11-14 to add more camera permissions.
Click

Save

button below the

Users List

to save user settings.