Considerations to make when selecting a video encoder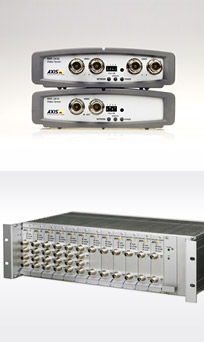 Image quality
Can the video encoder provide high-quality, deinterlaced digital video? The deinterlace filter eliminates the artifacts (a series of horizontal lines) caused by analog interlaced scanning technology.

Resolution
What are the resolutions needed?

Frame rate and compression
Do you require the ability to view and/or record at full frame rate? Do you require compression with Motion JPEG and/or MPEG-4?

Ease of installation, management and upgradeability

Ease of integration
Can it integrate with different types of analog cameras, for example, pan/tilt/zoom cameras?

With a rack solution
How many analog channels can the rack handle? How many channels with full frame rate and full resolution can the system provide?

Alarm management features
Do you require I/Os, video motion detection, image upload, scheduled and triggered event functionality with alarm notification?

Reliability
How reliable is the video encoder/rack solution? When connecting to multiple analog CCTV cameras, it is crucial that the video encoder/rack solution can be relied upon.

Security
What are the available security features? Security features may include multiple user access levels; HTTPS encryption, which provides a secure channel between the video encoder and application; IEEE 802.1X, which allows a network to be secured with port-based authentication; and IP address filtering.

Quality of Service (QoS)
Does the video encoder support Quality of Service? QoS helps secure the necessary bandwidth for streaming video and control commands over a network.

Software
Is the video encoder supported by a range of application software?

Future proof
Some video encoders may offer support for IPv6 (Internet Protocol version 6) addresses in addition to IPv4 addresses as insurance against the growing shortage of IPv4 addresses.