— Managing Cameras — Enable/Disable Recording —
Managing Cameras
Enable/Disable Recording
Before setting up any type of recording ensure first that recording is enabled for the selected camera.
After the camera was generally defined in the NVR it has recording

enabled

by default — the

Exclude from recording

checkbox is unchecked.

Turning on recording

requires at least one schedule to be added and configured for the camera; type of recording, and motion settings (if appropriate) defined.
To optimize performance

disable

recording for the cameras that are not intended for recording. Thus the Recorder will ignore those cameras completely, freeing resources for other tasks.
To disable recording for a camera —
In the

NVR Control Center — Cameras

select a camera from the

Cameras List

.
In the

Cameras Settings

check

Exclude from recording

checkbox to

disable

recording for the camera.
Click

Save

button below the

Cameras List

to save changes.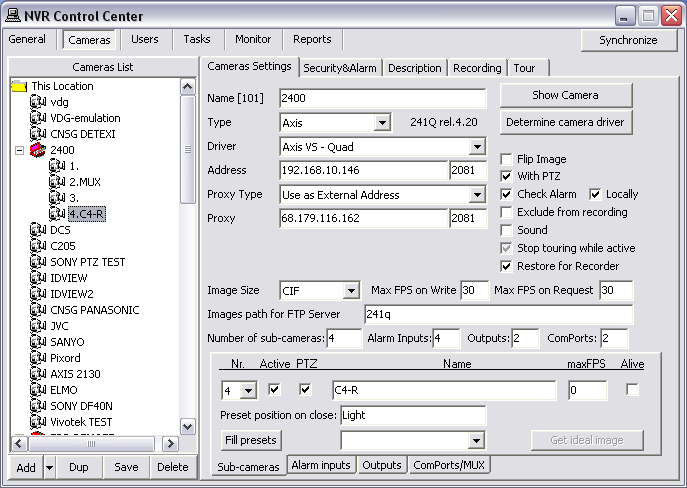 Recording can be temporarily disabled for a camera without removing recording schedules and configurations by using

Exclude from recording

checkbox. If recording is enabled again later (the checkbox is unchecked again), all previous recording schedules and configurations will be restored.
— Managing Cameras — Setting up Camera Recording Instructions —
Managing Cameras
Setting up Camera Recording Instructions
In the DETEXI NVR video can be recorded
on schedule
(24/7 or other) with or without
motion detection
and
on trigger
.
Scheduled recording can combine both

continuous

and

triggered

recording instructions (within schedule).
An alarm-triggered recording can be activated by, for example, video motion detection or an external input through a camera's input port.
With scheduled recordings, timetables for both continuous and alarm or motion recordings can be set.
After setting up the type of recording method, the
quality of the recordings
can be determined by selecting the video
resolution
, and level of image
compression
. The number of
frames per second
can be set in all recording modes.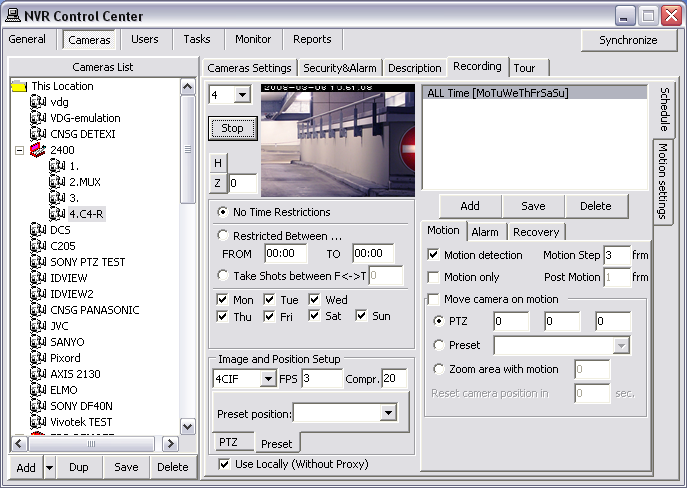 Learning the NVR motion detection and event management system should allow a better understanding of how to configure system settings including recording rules.




— Managing Cameras — Synchronize Recording Services —
Managing Cameras
Start or Synchronize Recording Services
There are two NVR services that should be running and monitored by the Monitor service in order to record —
Recorder
and
Check Drive
.
Recorder

service

records

information and images from each video input into the NVR archive, according to the configured schedules, preferences, alarms and events.

Check Drive

service monitors the condition of the storage path and device to confirm

existence

and

available space

for new video being recorded to the archive.
The DETEXI NVR recording services support runtime configurations. This means that changes in the cameras recording settings can be made without stopping the NVR services. When you are ready for your recording settings to take effect, start the Recorder and Check Drive services from the
NVR Control Center — Monitor
or if the services were running and monitored during the configuration just click the
Synchronize
button to activate the new configurations. The
Synchronize
button is found in the upper right corner of any
NVR Control Center
page.
Check Alarm Service
If
Recording on Input Alarm
method is setup in a camera/video server schedule, the
Check Alarm
service responsible for watching the status of IP device inputs should also be running and monitored.
Check Alarm

service monitors the

hard inputs

of connected video devices, and

raises alarms

when defined changes are seen on such inputs.